Non Food Grade Transportation
A safe, reliable, and efficient way to haul your bulk liquids.
Our dedicated non-food grade division is devoted to carrying your liquids to the highest safety standards and regulations through the use of a segregated unit that hauls only non-food grade products.
Our team is knowledgeable and certified to transport across Canada and the United States and our drivers are screened and FAST approved ensuring that your delivery will be made on time.
On Time Deliveries
Highly efficient and streamlined operations combined with our large fleet allows us to operate with flexibility in terms of scheduling to meet your changing requirements and deadlines. We work with you to get your deliveries where they need to be safely and on time.
Superior Customer Service
You require a high standard of service, and to ensure that you're getting the highest levels of service we've developed a system to track our performance levels. We send our customers monthly reports stating our performance level results for the month. Our previous yearly service level averaged 96.4%.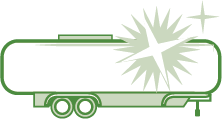 State of the Art Equipment
Stainless steel insulated (MC-407) tanks
Steam coils capable of in-transit heat
Kosher certified tanks available
Pump or air if required
Capacities from 6,000 to 10,000 imperial gallons