State of the art trucks, tanks & trailers.
At T.D. Smith we operate over 100 trucks with over 200 bulk liquid late model, state of the art tanks that are set up for various products and jurisdictions.

We have innovated our own tank technology by simplifying and streamlining our equipment to eliminate room for errors and increase efficiency.
WE FEATURE:
Stainless steel insulated Sanitary Tanks
Stainless steel insulated tanks (MC-407)
Steam coils capable of in-transit heat
Kosher certified tanks
Stainless pumps or air where required
Tanker capacities range from:

6,000 IMP to 11,000 IMP
7,200 US Gallons to 13,200 US Gallons

Tandem and Quad Axles, SPIF Compliant

Serviced On-Site to Keep Your Deliveries on Time
Our trucks, tanks and equipment are serviced and maintained on-site in our MVIS and Transport Canada certified service bay. Combine this with our large fleet and it means that no matter what, we'll get your delivery to you in a timely and safe manner.

Peace of Mind Satellite Tracking
We run satellite tracking systems on our entire T.D. Smith Transport fleet so that you can rest assured that your delivery will be made on time.

State of the Art, On-Site Food Grade Wash Bay
You can trust that our tanks and equipment are cleaned properly, and to the highest standards to meet strict regulations in our KOSHER, JPA and Diageo certified, food grade wash bay. Our technicians are highly skilled, detail-oriented, and organized. Whether you need Kosher, JPA or other food grade liquids transported, we get the job done right utilizing products certified to industry standards.
Read what Tremcar and Currie Freightliner have to say about working with us: PDF Letter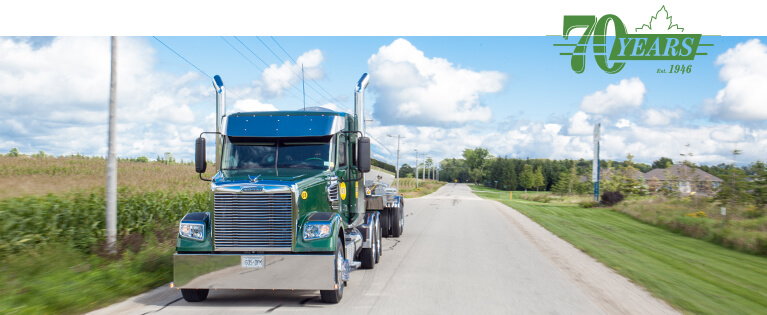 70 Years Experience
With 70 years of practice comes intuitive processes and lean approaches. Our facilities, operations, and equipment are run lean with a high degree of organization. We invite our customers to our drop in to our facility anytime, either scheduled or unscheduled. Just ask our insurance company, we've been using the same one for over 40 years, knowing our customers are protected above & beyond with our coverages.
Read a letter from Jones Deslauriers Insurance about our long working relationship: PDF letter

Long and Short Term Leasing
T.D. Smith also offers long and short term leasing, with or without a maintenance program. We offer competitive pricing, modern equipment, and excellent service.